Mitsubishi Heat Pumps Auckland | Hot As Heat Pumps Ltd
Authorised installer of Mitsubishi Electric, NZ's quietest heat pumps. We install and service heat pumps Auckland-wide to warm and cool your home or office.
New Zealand's most efficient heating & cooling
Looking to keep your home or office warm in winter and cool in summer, all at a lower cost? We recommend, install and service heat pumps Auckland-wide (and beyond).
Poor air quality can lead to many problems in your home and workplace. Hot As Heat Pumps Auckland provides great ventilation alongside air conditioning so you can live and work comfortably and safely.
At Hot As Heat Pumps Auckland, we offer...
The cleanest and quietest Mitsubishi Electric heat pumps.
Both heating and cooling at the click of a button.
Natural and refreshing airflow, 24/7.
Energy-efficient solutions, cutting down on your power bills.
Heat pump installation customised to your needs.
Long-term servicing and support.
5-year guarantee.
What is a heat pump?
A heat pump is a more efficient, sophisticated and quieter version of the classic air conditioner or heater. A heat pump can heat and cool your environment better, quicker and for less money than other heating options.
Heat pumps have numerous advantages...
Energy efficient: More effective than gas heating, wood fireplaces, or electric fans.
Low cost: Heat pumps use only 1 kilowatt of energy to produce 3 kilowatts of heat.
Fresh air, 24/7: Natural indoor/outdoor airflow around the clock.
Customisable: Works also as an air conditioner in summer.
Environmentally friendly.
Modern & discrete in design. Check out the sleek new profile in heat pumps - the "Designer Series"
Improve your air quality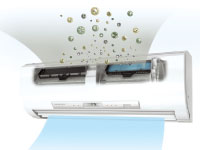 Another benefit of a heat pump is the ability to filter the air that you are heating, getting rid of nasty allergens which is important for both asthma and allergy sufferers.
Most heat pumps are fitted with advanced filtration systems to provide optimal air quality by filtering and deodorising the air. These two functions work together to remove even the tiniest airborne particles and break them down or neutralise them.
While systems like unflued gas heaters actually deplete the air quality and consume oxygen - heat pumps have been shown to improve air quality while keeping you warm.
Fresh air, 24/7
Hot As Heat Pumps Auckland uses Mitsubishi Electric's patented Fresh Air Energy Recovery System called the Lossnay Home Ventilation System.
Lossnay uses fresh air (not attic air) to ventilate your home or office, so you get the best of both worlds - fresh air into the home whilst reducing dampness - and without the excessive added heating costs that are unavoidable with most alternative systems.
Our heat pumps maintain a constant cycle of crisp, natural air. At the click of a button, you can switch from heating to cooling.
In winter, heat pumps draw cool air from outside, warm it up, and transfer it into your home or office.
In summer, heat pumps take heat out of your home or office, ensuring a fresh and cool environment all day and night.
How does a heat pump work?
Heat pumps work in the same way as your home refrigerator except there are two separate parts to the system...
Outdoor unit (housing the compressor) which extracts available heat energy from the outside air and transfers or "pumps" it back inside your home through the...
Indoor unit, which distributes the heated or cooled air.
Keeping you nice and warm through the winter and cool and comfortable in summer.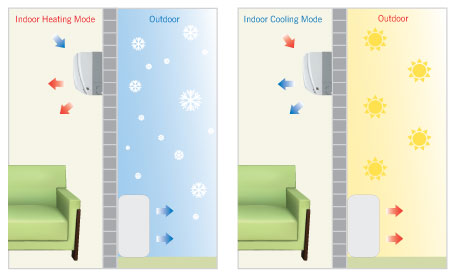 Energy and cost savings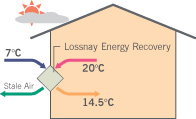 Energy recovered in Winter
If outdoor air is 7˚C and the indoor air is at 20˚C, then the supply air would be 14.5˚C after going through the Lossnay energy recovery system. This only needs to be heated by 5.5˚C to reach the 20˚C comfort temperature, not 13˚C, thus saving energy and money. With conventional ventilation systems, this energy would normally be wasted!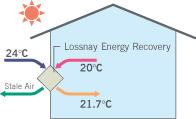 Energy recovered in Summer
If the outdoor air is 24˚C and the indoor air is 20˚C, then the supply air would be 21.7˚C after going through the Lossnay energy recovery system. In summer the house will feel clean and fresh, even if you leave the house locked up for a long period of time.
Why choose Lossnay - fresh air energy recovery system?
Draws in fresh outdoor air
Circulates the air continuously
Retains heat
Assists moisture control
Helps keep heating bills down
Why choose Hot As Heat Pumps Auckland?
At Hot As Heat Pumps Auckland, we provide high-quality, personal advice and service for which heat pump is best suited to your needs. We'll work closely with you to ensure you have an optimal heating and cooling system suited for your residential or commercial environment.
Heat pump installation
We're a full-service business. We'll assess your home or office environment, analyse which heat pump will suit you best, and install it quickly and efficiently.
We have expertise in figuring out the ideal location for your heat pump. Our heat pumps will be positioned to heat or cool your entire home or office, reducing your condensation or air circulation problems.
Heat pump prices
Hot As Heat Pumps Auckland keeps you cool or warm 24/7, without skyrocketing power bills.
The cost of running a heat pump is far less than any other cooling or heating system. We offer top-of-the-range Mitsubishi Electric heat pumps that generate fresh air, hot or cold, at a lower price.
Pricing starts as low as $1,900 +GST for a small office or bedroom model to $2,500 + GST for an average living room model.
When we come in we give you a precise assessment of the best model and exact pricing, so call us on 0800 HOT AS 4 U (0800 468-274) [tap to phone from your mobile].
Clean & quiet technology
At Hot As Heat Pumps Auckland, we offer a wide range of top-quality Mitsubishi Electric heat pumps. Mitsubishi Electric heat pumps are top-of-the-market technology in air conditioning and thermal heating.
We combine sophisticated technology and personal service to help you decide which heat pump will provide you with the highest quality cooling and heating New Zealand has to offer. For more information and a free consultation, please contact us at 0800 HOT AS 4 U (0800 468-274) [tap to phone from your mobile].